Nestled in the heart of the British South Coast, Poole is widely considered the perfect stop-off for Superyacht guests and crew. Not only can it act as the ideal launching point for a range of inland activities, but it is also home to the Jurassic Coast World Heritage Site, where guests can immerse themselves in some of the UK's most dramatic coastlines.
What are my berthing and anchorage options?
Accommodating vessels of up to 70 metres, Poole Quay Boat Haven comes highly recommended by yachts agents due to its supreme positioning, which offers spectacular views of Brownsea Island, along with a host of cafes and restaurants. Close by, you will also find the Port of Poole Marina, which can accommodate vessels up to 70 metres (subject to availability).
If your vessel is on the smaller side and you are looking for more of an intimate setting, then the tranquil Cobbs Quay Marina is a favourite amongst owners, housing 850 marina berths and 280 dry stack berths, not to mention a range of facilities.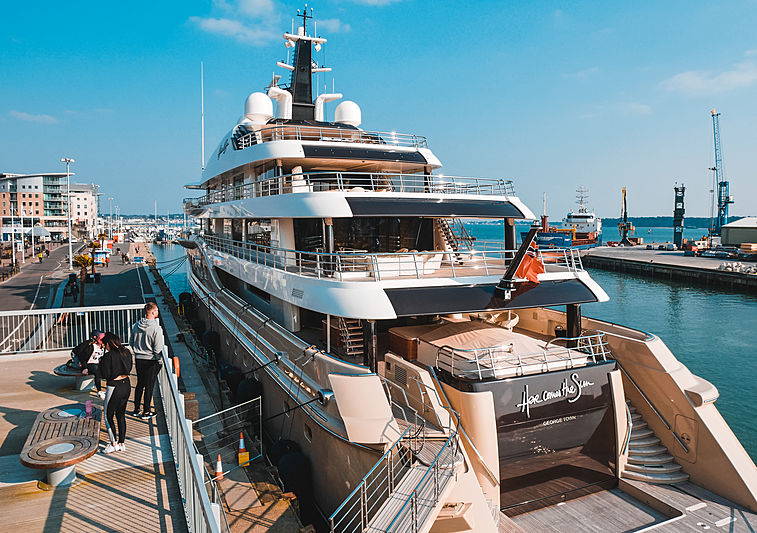 Our Top Tips for Making the Most of Poole
At the top of our list has to be the stunning Sandbanks Beach, located in one of the most exclusive and desirable areas of the UK. This Blue Flag award-winning beach is breathtakingly beautiful all year round and is surrounded by some of the most sought-after restaurants, hotels and pubs in the country. If gorgeous beaches are your thing, then Sandbanks is by no means the only option. On the contrary, Chesil Beach and Studland Bay are just as striking and perhaps better options for those who prefer a less lively atmosphere.
If you're looking for an event to attend, the Poole Harbour Boat Show (taking place from 12-14 June) is one not to be missed, drawing in thousands every year to enjoy an amazing showcase of yachts, marine equipment, demos, along with live music and local cuisine. Your yacht agent will be able to make it a VIP experience you'll never forget.
Get In Touch
Thinking about how you can put together the perfect Poole Superyacht itinerary? The team at MGMT can offer their invaluable experience to make sure you and your guests have the trip of a lifetime. Get in touch today to find out more – info@mgmtyacht.com